Travel comfortably and stress-free to/from the airport with your Rail&Fly ticket.
Rail&Fly tickets are valid on local and long-distance trains as well as on selected private railcompanies (NE-Bahnen).¹
With your Rail&Fly flex ticket you can also use any train within the period of validity (valid on the day of travel until 10 a.m. on the following day) on the selected route.²
Participating transport associations
Rail&Fly tickets are also valid on all modes of public transport (including bus, underground, tram) within the following transport associations, provided that the departure and destination stations are within the respective transport association area: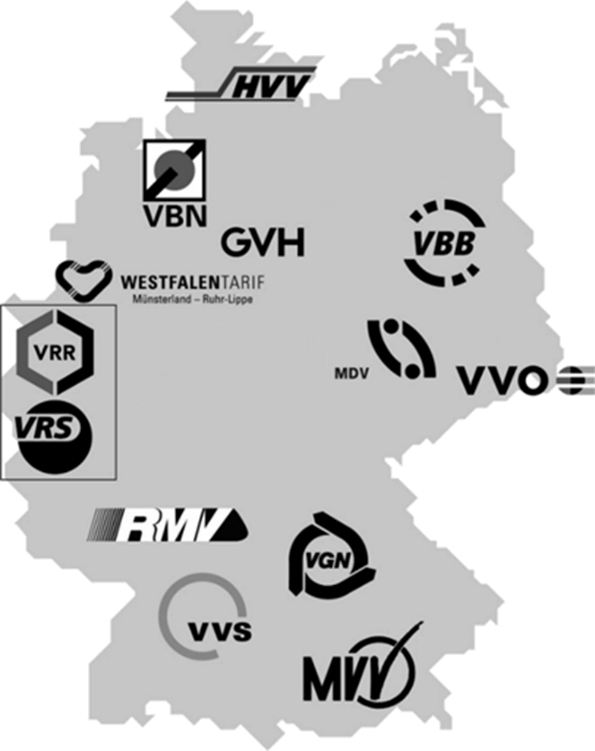 GVH
Großraumverkehr Hannover
---
HVV
Hamburger Verkehrsverbund
---
MDV
Mitteldeutscher Verkehrsverbund
---
MVV
Münchener Verkehrs- und Tarifverbund
---
RMV
Rhein-Main-Verkehrsverbund
---
VBB
Verkehrsverbund Berlin-Brandenburg
---
VBN
Verkehrsverbund Bremen/Niedersachsen
---
VGN
Verkehrsverbund Großraum Nürnberg
---
VRR
Verkehrsverbund Rhein-Ruhr
---
VRS
Verkehrsverbund Rhein-Sieg
---
VVO
Verkehrsverbund Oberelbe
---
VVS
Verkehrs- und Tarifverbund Stuttgart
---
Transfer partner
If the respective airport is not directly connected to the Deutsche Bahn rail network, you can use your Rail&Fly ticket to the nearest station. To ensure continuous mobility to the airport, selected Deutsche Bahn transfer partners can be used free of charge from the station to the airport and from the airport to the station:
Basel Euro-Airport with bus line 50 from Basel SBB
Bremen Airport with tram line 6 from Bremen Hbf (main station)
Dortmund Airport with the Airport Shuttle from Dortmund/Holzwickede
Kassel-Calden Airport with bus line 100 from Kassel-Wilhelmshöhe
Münster / Osnabrück Airport with bus lines S50, R51 or D50 from Münster (Westf.) Hbf (main station) or with bus X15 "FMO-Express" from Osnabrück Hbf (main station)
Nürnberg Airport by underground line U2 from Nuremberg Hbf (main station)
Please note: If you would like to use the Rail&Fly ticket within one of the above-mentioned networks, please note that bus stops cannot be specified in the booking process. Please enter the nearest railway station instead. The use of all interconnected services such as bus, underground, tram and transfer partners is still possible with the Rail&Fly ticket.
If the airport is not directly connected to the DB rail network, there is no transfer partner and the airport is not in a participating network area, the Rail&Fly ticket is only valid to the nearest DB train station. You have to pay for the transfer from the train station to the airport yourself. (Exception Kassel Calden: here bus line 100 can be used free of charge from Kassel-Wilhelmshöhe.)
¹ Long distance trains: e.g. ICE, RJ, RJX, IC/EC; local trains: e.g. IRE, RE, RB, S-Bahn.
²The ICE can also be used if a regional trains or IC connection has been selected in advance (the ticket is only route-related).
Subject to changes. Valid from 08.10.2021.